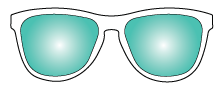 Mirrored Reflective Lenses
For Regular Heads
Best for Road, Trail, or Taco Runs
GRAND CANYON
The Grand Canyon is considered one of the natural wonders of the world largely because of its natural features.
The geologic incline creates a diversity of biotic communities: a semi-arid desert, sandy beaches, and forests of pinyon pine, juniper and spruce-fir. (Also, there's a really big hole!!!)
These sunnies won't slip or bounce while you admire the flora and fauna, while building up the courage to venture out on the glass Skywalk. (Do it!! It's worth it!!) The canyon and park are, well...grand. Name checks out.