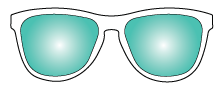 Mirrored Reflective Lenses
For Regular Heads
Best for Road, Trail, or Taco Runs
YOSEMITE
El Capitan. Half Dome. Tunnel View. Sequoias. All stunningly beautiful hallmarks of one of the great national parks, Yosemite.
It couldn't get any more beautiful...until you stepped into the park with your National Park goodr sunnies. Congratulations. Now it's even more stunning.
Now tourists can enjoy seeing your majestic face in a majestic park with stunning sunnies to boot. While you're rocking those sunnies, look out for bears. And don't feed them s'mores (or anything else).