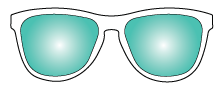 Mirrored Reflective Lenses
For Regular Heads
Best for Road, Trail, or Taco Runs
YELLOWSTONE
Yellowstone was established as the FIRST national park in 1872. It's also home to about half of the world's active geysers. Yellowstone is a gorgeous, geological innovator.
Here's another one for this ever-impressive national park - goodr supports the National Park Foundation and has made some stunning sunnies in their honor!
Including, you guessed it, Yellowstone. Will Yellowstone ever not be awesome? Nope!