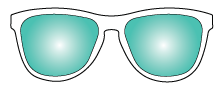 ・Mirrored Reflective Lenses
・For Regular Heads
・Best for Road, Trail, or Taco Runs
GREAT SCOTT!!! We're taking you back...to the FUTURE, with these Back to the Future inspired-sunnies. These shades won't slip or bounce while time traveling, biking, beasting, golfing, or running from bullies at The Enchantment Under The Sea dance!!! Snag yours before they blast back in time, or is it back to the future?
BACK TO THE FUTURE
Where we're going, we don't need roads...
We DO need some plutonium, a rad 80s sports car with gull-wing doors, a super cute dog named Einstein, a crazy mad scientist friend, a Flux Capacitor... Oh, and of course, the perfect sunnies!!!
Introducing NEW Where We're Going, We Don't Need Roads
Snag yours before they disappear back to 1955!!!