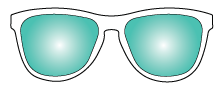 Mirrored Reflective Lenses
For Regular Heads
Best for Road, Trail, or Taco Runs
IS YOUR SPIDER-SENSE TINGLING?!?!
We love Marvel's Spider-Manvbecause he's relatable.
Peter Parker isn't a suave billionaire or godlike alien.
He's an awkward teenager who has to deal with everyday life issues...
...like being a high school outcast, dealing with a nagging aunt, and struggling to pay the rent.
Although you shouldn't have trouble getting a good job, Peter.
Everyone agrees you're a...
Promising Young Web Developer