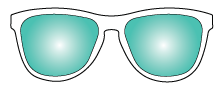 Mirrored Reflective Lenses
For Regular Heads
Best for Road, Trail, or Taco Runs
IS YOUR SPIDER-SENSE TINGLING?!?!
Special grip coating to eliminate slippage while wall-crawling?
Snug, light-weight frame to prevent bouncing while web-swinging down the streets of New York City?
Glare-reducing, polarized lenses to block 100% of harmful UV rays and 0% of Green Goblin attacks?
It's just another service provided by your Friendly Neighborhood Spider Shades!!!
(WARNING: With great power comes great responsibility. Luckily, copywriters have little power. We're very irresponsible.)